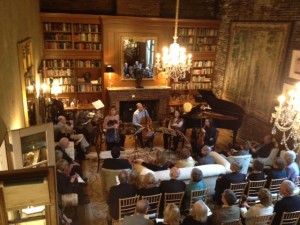 Imagine sitting in a soft upholstered chair, glass of champagne in hand, and world-class chamber musicians just feet away engaged in fervent musical conversation before you.  If you love music, nothing comes close to the rapture of listening to a Schubert quintet in the privacy and comfort of a beautiful home, the way chamber music was meant to be heard.
Salon Concerts feature international concert soloists who will perform beguiling works of chamber music in the intimacy of lovely private homes. Artists who regularly perform in the greatest concert halls of the world, from Lincoln Center, to Wigmore and Carnegie Hall, will be a breath away from you.
Contact us to learn more about hosting a salon concert in your own home to celebrate a special occasion or anniversary.
Salon Concerts are available to you for any special occasion, the fee to be determined according to the number of artists and the nature of the program.
We suggest a glass of wine for your guests at 5:00 pm and for the concert to begin at 5:30 followed by drinks and hors-d'oeuvres.