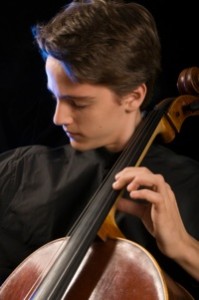 Cellist Sasha Scolnik-Brower is presently a Freshman enrolled in the dual degree program of Harvard University and the New England Conservatory, in the studio of Paul Katz's.  He was a first-place winner of the Boston Symphony (2011), Boston Youth Symphony (2011), and the New England Conservatory Preparatory (2012) competitions.
Previous teachers include Natasha Brofsky and Andrew Mark. Other awards include first prize in the Walden Chamber Players Competition (2010) and the young artists competition of A Far Cry chamber orchestra (2011).
As a soloist, Sasha has performed with orchestras including the Boston Symphony, Boston Youth Symphony, the Wellesley Symphony, Reading Symphony, Nashua Chamber Orchestra, Longy School of Music Chamber Orchestra, and the Merrimack Valley Philharmonic. Sasha is a passionate chamber musician, and was a semifinalist in the Fischoff National Chamber Music Competition (2010) and a finalist in the International Chamber Music Foundation of New England Competition (2012). During the summer, Sasha has attended programs including Kneisel Hall, Aspen Music Festival, and Greenwood Music Camp.  He performs regularly with his mother, flutist Julie Scolnik, and sister, pianist Sophie Scolnik-Brower, also enrolled at NEC.